Chiropractic Care
Chiropractic care is a health model that's natural and drug-free; at Chiropractic Care Centers we focus on providing effective, non-invasive treatment with a goal of healing our patients and preventing the need for procedures or surgeries that could result in an extensive and painful recovery. Keeping the body in alignment allows the nerves, muscles and joints to work as they should and decreases nerve interference and pain.

Helping You Feel Great!
Did you know that a variety of conditions can benefit from chiropractic? These include headaches, low back pain, auto accident injuries and more.
Chiropractic can:
Reduce pain
Increase function and range of motion
Help with digestive issues, headaches, TMJ, back pain and different functions of the body
Promote better sleep
Tailoring Care to Each Patient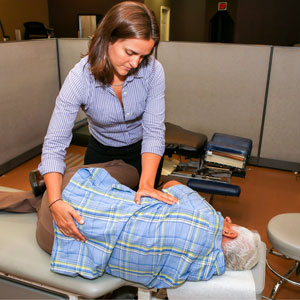 As we are all unique one treatment style does not fit all! Therefore each provider offers their own style of treatment to meet our patient's needs. Some patients may prefer a more dynamic manual adjustment; others may prefer a gentler, instrument-assisted adjustment. How we treat someone depends on the specifics of each patient's condition and their body's response to treatment.
With a new patient, your doctor will explain your condition and what's happening with your body. They will educate you about the spine, nervous system and overall anatomy and how they work with your body to relieve pain and promote healing. This will provide you with an understanding of the purpose of the treatments and what they are doing to help you to improve.
Typically, you will come in for care 2-3 times a week in the beginning stage of your treatment. As your body gets stronger to hold the adjustments longer, we can space it out further.
Our Techniques
We provide a range of techniques to help you get out of pain and on the path to feeling your best:
In addition to our techniques, we offer electric stimulation which assists with relieving pain through the use of an electric current that activates sensors in the body. We also provide a variety of other therapies such as heat, traction, and massage through the use of specialized equipment.
Experience safe and natural chiropractic care. Contact us today to book an appointment!
---
Chiropractic Care Centers | (978) 353-7716